Culture For Causes Network organized a digital show in Lisbon, in June 2023, with the artists BLΛC.ai, CharlesAI, DeltaSauce, DVK the artist and Georgina Hooper, in partnership with NFT Biennial, Arroz Estúdios, the Non-Fungible Conference, and with the support of UNESCO.
Artists
BLΛC.ai
An artist and creative for two decades; as an abstract expressionist painter, photographer, designer, creative team leader, and more. BLAC's work explores conceptual contrasts such as good vs. evil, freedom vs. ruin, and reality vs. unreal and constantly pushes the boundaries of technological abilities and artistic expression. BLAC's work has been exhibited in Rome, LA, NY, Paris, and now Portugal, as well as included in several publications in the NFT + AI community including NFTnow, StabilityAI's STABLE Publication, Aguilar and more.
https://twitter.com/bl_artcult
CharlesAI
CharlesAI, a French doctor and NFT artist, turned to AI art in 2021 to relieve the stress of working in the ER during COVID. Discovering AI art with VQGAN + CLIP ignited his passion. He began minting his works, gaining attention for colorful landscapes on Opensea. His art was exhibited at MoCa Gallery, IHAM art gallery in Paris, and sold at the first French physical NFT auction. CharlesAI co-organized the first European physical AI art exhibit in Nice and showcased his work in Rome, Milan, and Art Basel Miami. He was interviewed by BFMTV, discussing his creative process and opinions on AI art and its ethical implications. CharlesAI's work was published in Beaux Arts magazine and used to teach AI art at prestigious institutions worldwide.
https://twitter.com/HODLFrance
DeltaSauce
DeltaSauce is an artist based in Texas, with a passion for creating works inspired by locations, and spaces. With a background in sculpting and woodworking, DeltaSauce has transitioned into the world of digital art. Utilizing AI to capture memories the way a cinematographer would capture moments in a movie.
https://twitter.com/delta_sauce
DVK the artist
DVK is an acclaimed multi-disciplinary artist and curator, whose profound artistic prowess has captivated audiences worldwide through compelling exhibitions. DVK's diverse range of creative expressions encompasses illustration, graphic design, and extensive expertise in working with AI. Often drawing inspiration from Expressionism, Nordic Noir, Futurism, and Brutalism, DVK's body of work resonates with profound depth and evocative aesthetics. Through his art, DVK eloquently conveys his inner universe, experiences, and resolute perspectives on the world at large.
https://twitter.com/DVKtheartist
Georgina Hooper
Georgina Hooper is an Australian artist exploring the seen and unseen energies around us. Art, for her, merges philosophy, science, and creativity. Her work draws from her PhD research in traditional Chinese painting, neuroscience, and engagement with Eastern artistic traditions. At 17, she majored in painting for her Bachelor of Fine Art, and later received a research scholarship to study traditional Chinese painting at the University of Tianjin in China. Combining ancient and contemporary knowledge, Georgina aims to illuminate art as a tool that enhances cognitive, emotional, and physical states for artists and audiences alike.
https://twitter.com/GEORGINAHOOPER_
Ian (sumofprimes)
Ian (sumofprimes) began the journey into digital expression long ago, learning to code in his youth. Generative art, 3D, fractals, digital painting, AI, and more, curiosity & passion lead him to explore the potential down new technological rabbit holes.
Passion has driven him to conduct carbon capture R&D, and he's laying a foundation to tackle the climate crisis, biodiversity loss, and more, at-scale. One component involves a local UNESCO Biosphere Reserve, aiming for a movement that can span their global network.

https://twitter.com/sumofprimes
Artworks
rɪˈflɛkt, by BLΛC.ai
"rɪˈflɛkt" visually speaks to the art of remembering a connection to something more, reflecting on an eternal truth that we are all one with each other, nature, and the ethos of the universe.

This work is specifically inspired from a moment that the artist spent at Ruby Beach, just outside of the Olympic national Forest after spending a week backpacking through some of the greatest and most primal areas of the Pacific Northwest, United States.
When one is in the wild for more than a few days, a resonance begins to occur, frequencies change, and a new level of dimensional awareness becomes clear. It's only afterwards that one reflects on this moment and begins to see the contrast of how you believed things were versus how they actually are.
Empire of Resilience, by CharlesAI
This piece embodies the relentless effort that played a crucial role in building a robust and long-lasting society from the ground up, battling against Nature.

The artwork acts as a testament to the fundamental values and tenets that previously forged our civilization, underscoring the significance of self-discipline, persistence, and selflessness.
The Glades, by DeltaSauce
Immersed in the endless expanse of the Everglades, we often forget just how small our lives are. Inspired by the days of finding myself with family, on our boating trips out in the Everglades. Always seeking refuge and immersing ourselves in the endless tributaries of Florida.

Fishing was always an activity we would seek out on the weekends. A way to escape the modernity of suburban living.
Adaptation, by DVK the artist
The conceptual framework underlying this artwork is intended to inspire contemplation regarding the imperative of preserving our planet. The circular form of the piece symbolically represents Earth and its delicate biosphere. Upon closer observation, the dynamic rotation of the artwork reveals the emergence of a visage, metaphorically embodying humankind in a futuristic milieu. Within this speculative vision, humanity has undergone a transformative metamorphosis, potentially assuming an alternative state of being necessitated by the environmental degradation inflicted upon Earth.
This envisioned transformation signifies a hypothetical convergence of human existence with cutting-edge technologies, such as AI-enabled nanotechnology, where the boundaries between the organic and the artificial blur. In this speculative scenario, humanity transcends its biological limitations, obviating the need for conventional life-sustaining elements like breathable air and adapting to thrive in inhospitable environments. However, a profound underlying theme persists: the inherent inclination of humans to prioritize the conservation of our home planet rather than embarking on such radical metamorphosis.

The artwork thus evokes a profound reflection upon the human condition, provoking contemplation regarding our role as stewards of Earth and the urgency to preserve its ecosystems.

Humanity,
A beautiful species.

Earth, the biosphere,
Our planet, our home.

Merged with the elements, a part of nature.
We found a new way to survive.

Keeping our spirit and soul alive.

AI-collaborative video art, sound and poem created by DVK.
Microcosm, by Georgina Hooper
'Microcosm', an ink and watercolour painting on rice paper, is inspired by the biodiversity of Australia's Great Barrier Reef, the largest living structure on earth where some 1625 species of fish swim among more than 450 species of hard coral.

Its 2,500 individual reefs and 900 islands extend from the northern tip of Queensland down to south of Gladstone. I was born in North Queensland and would often snorkel in the reef, exploring the vast world of the sea in awe of its wonder. The physical work (measuring 130cm x 65cm) is painted on rice paper using traditional Chinese painting practices which I learnt as a research scholar under the instruction of Professor Dong Ya at Tianjin University, China.
This work translates the vast natural territory of the reef most familiar to me with traditional Chinese aesthetics and methodology. I was delighted to find the traditional technique fuse so beautifully with this Australian subject matter. The work is painted from multiple perspectives, therefore can be viewed and displayed in either landscape or portrait format. The physical work was exhibited in Brisbane in my 2018 solo exhibition as the hero piece and was acquired by paper and Asian painting conservator Jennifer Loubser.

This artwork was also translated into textiles by Japanese-Australian fashion designer Masayo Yasuki for her fashion label DOGSTAR. Creating this NFT ensures that, despite the delicate nature of rice paper and its ephemeral character, this painting will endure beyond its physical existence as pristine as the day it was completed.
Generative by Nature, by Ian (sumofprimes)
Humans are generative, propagating ourselves and our creations to the far reaches of the world and beyond. Unfettered, this practice has taken its toll on many fronts – alarming biodiversity loss, deforestation, and pushing systems to crisis points.

It doesn't have to be that way.

We are surrounded by nature, still, and can nurture it back to health. We have the knowledge and ability to live sustainably and in harmony with the environment, if we choose to do so. Our potential for innovation is tremendous, and the rate at which technology is evolving is astounding.

In the same way that we can steer what we "generate" in the world, generative works were used in the creation of this piece, to manifest a scene where nature is flourishing all around, while what we are manifesting therein is still taking shape – it will become what we steer it to be.
Pictures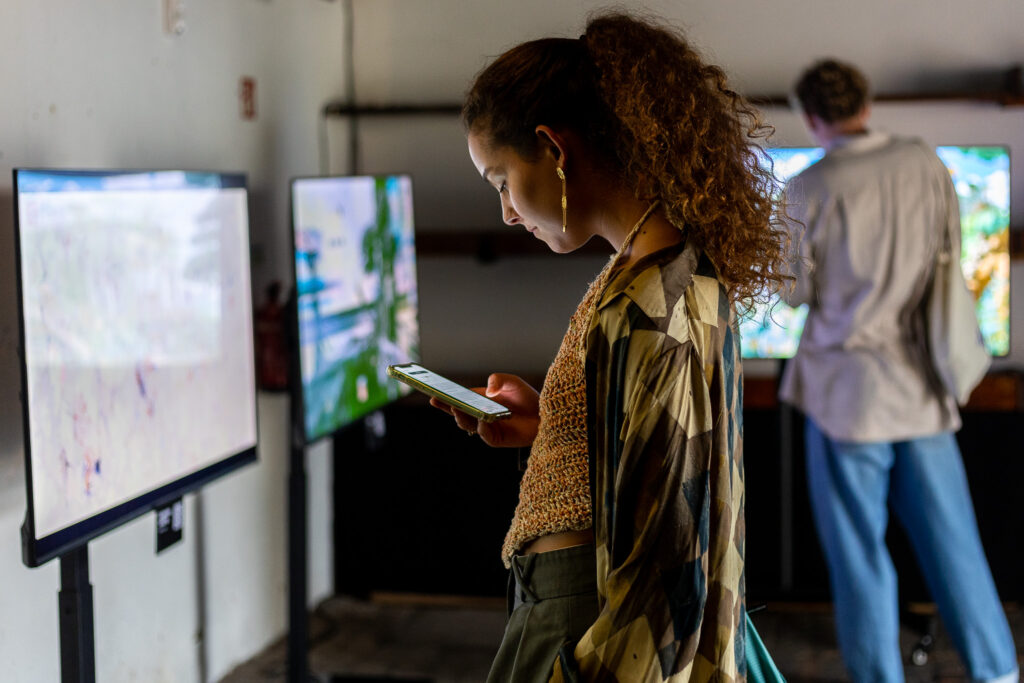 Official affiche